About the Foundation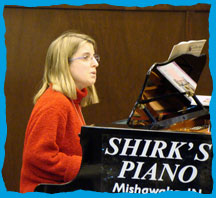 The Foundation operates in numerous studios located throughout the community, including the Logan Center, Goshen College's Community School of the Arts, and two at Memorial Hospital of South Bend, Indiana. Clients are served from a wide geographical area northern Indiana and southwest lower Michigan. Students pay for half-hour lessons on a fee-for-service basis; scholarships are needed for those who are unable to pay all or part of their fees.

A number of major organizations have developed a consortium to support the work of the Foundation for Music and Healing, Inc. This support enables the Foundation to extend services to more people in need.

These organizations include

The President Emeritus of the University of Notre Dame, Father Theodore M. Hesburgh, C.S.C., serves as an Honorary Founding Member of the Board of Directors.

More instructors are being drawn to this work and more organizations are developing partnerships with the Foundation to provide services to more students.

Students are served without regard to race, religion, creed, ethnicity, gender, age or disability.

Instructors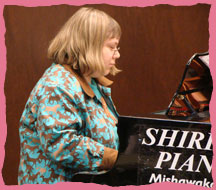 Music instructors associated with the Foundation for Music and Healing, Inc. are skilled in a wide variety of areas. Of primary importance are life experience and a deep love of music. Academic areas in which instructors have credentials or experience include music, psychology, sociology, education and therapeutic healthcare. Most importantly, instructors possess knowledge of how to effectively work with people who have special needs.
Foundation music instructors have a wide range of professional experience. Some have taught on the college level, and some in secondary and elementary schools. Degrees range from bachelor's and master's to earned doctorates. Subjects studied include music, communication and social sciences. All have worked with students in providing private lessons and music experiences.
A collegial atmosphere characterizes communication between instructors as well as between music instructors and family members. New techniques and the latest research are exchanged to expand the horizons of all concerned.
The broad experience of musicians associated with the Foundation for Music and Healing, Inc. give them a unique perspective for the important work of assisting individuals who have special abilities.
---
Board of Directors
Honorary Founding Member
Rev. Theodore M. Hesburgh, C.S.C. President Emeritus,
University of Notre Dame
Chairman and President
Chris Robinson, Ph.D.
Jim Davis
Businessman
Jeffrey Jacob, D.M.A.
Professor of Piano Pedagogy, St. Mary's College
Chuck Roemer
Retired Partner, Barnes and Thornburg LLP
Mike Roth
President, Shirk's Music Center
Christine Thogersen
Assistant Professor of Music, Goshen College
Dean Strycker, M.D.
Retired Physician